Registration For:

Shoot 5 different AR-15s in FOUR different calibers as you learn proper stance and grip !!
Firearms Include:
ALL INCLUSIVE!
Complete course info can be found HERE
All Courses will be held at:
Nassau County Rifle and Pistol Range at Mitchel Athletic Complex (Indoor Range)Charles Lindbergh Blvd.Uniondale, NY 11553Contact us at (516) 449 – 0839 for more info
PLEASE DO NOT CALL RANGE
Directions:
 Nassau County Rifle and Pistol Range
Take I-495 to Exit 42 (Northern State Parkway West)
Take Northern State Parkway to Exit 31A (Meadowbrook Parkway South)
Take exit M4 for New York 24 W toward Hempstead
Keep right at the fork, follow signs for Charles Lindbergh Blvd/Museum Row and merge onto Charles Lindbergh Blvd
Destination will be on the left, turn at green Dept of Health sign.
*NOTE the range is located in the Mitchell's Field Athletic Complex.
HINT: Follow signs for Museum Row, Range is located directly across the street.

Registration Instructions:
You will be sending an email to register, there isn't a form to submit for this course.

Read all of the information, do not skim it.



YOU MUST send a separate email for each shooter.
*EVEN IF IT IS A VOUCHER FOR TWO*
 *EMAILS FOR TWO PERSON VOUCHERS
MUST BE SENT NO LONGER THAN 1 HOUR
APART FROM EACH OTHER*

STEP #1: From the list below, pick a class time and date:

STEP #2:

In the

subject
line
of
an email please place this information, in this format:
[Class date, Class Time, Shooter Name, 8 digit VOUCHER number (under barcode), Phone number]
Send to: frank@renaissancefirearmsinstruction.com (Copy / Paste if needed)
(Add this address to your contacts list to avoid confirmation going into spam)

Step #3: Allow up to 72 hours to receive confirmation, these are handled manually.

 See Helpful Example below!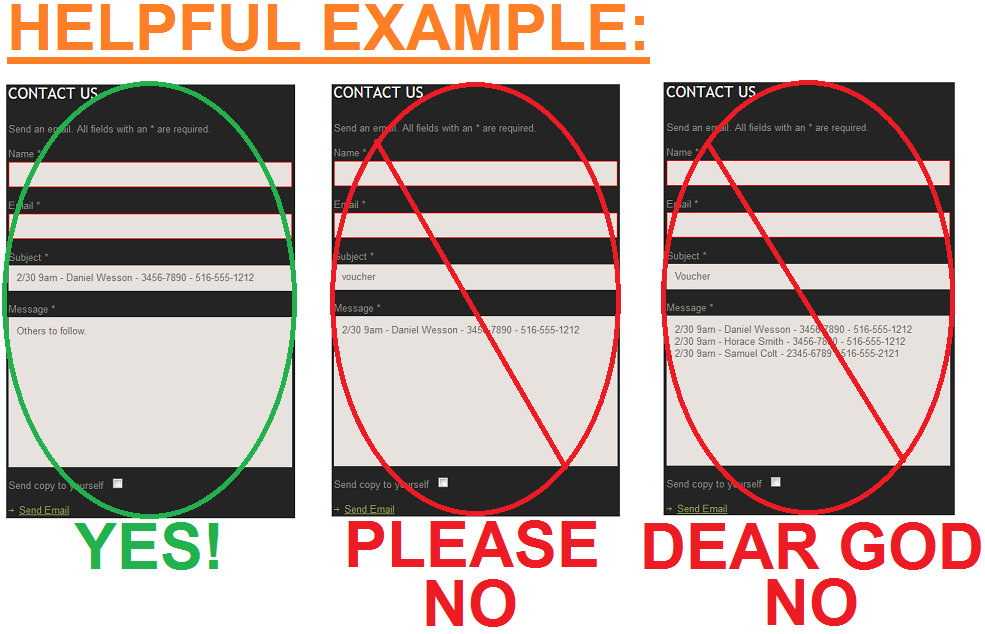 *Vouchers are redeemed at registration whether you show up or not.

Be sure of your schedule and any possible conflicts.

*Please allow up to 72 hours for your confirmation, as they are handled by a real, live person.
*A word on Expiration Dates*
Your voucher is redeemed when you signup for a class, not when you attend it. Therefore you MAY sign up for a class PAST your vouchers expiration date, as long as you do so before it expires.
Example: Today is 5/1, your voucher expires on 5/5.. you may sign up for a class on 6/7 as long as you do it in the next 4 days.
Class Dates
All Classes held at The Nassau County Rifle and Pistol Range (Uniondale, NY) – * This is an Indoor Range
Saturday 09/14/19: @ 9:30am (FULL) , 12:30 (FULL) , or 3:30pm (FULL) 
Sunday 09/15/19: @ 9:30am (FULL)

Saturday 10/26/19: @ 9:30am or 12:30pm(FULL)
Saturday 11/23/19: @ 9:30am (FULL)
Saturday 12/14/19: @ 9:30am
Sunday 01/05/20: @ 12:30pm (FULL)
Saturday 02/01/20:  @ 9:30am (FULL) or 12:30pm (FULL) – (SATURDAY BEFORE SUPER BOWL)
Saturday 03/14/20: @ 9:30 (FULL) or 12:30pm (FULL)
Saturday 04/18/20 @ 9:30am or 12:30pm
Saturday 04/25/20 @ 9:30AM
---
_____________________________________________________________________
Additional classes will be held after the last date listed This list is up to date. Customer Service Representatives will not have other information. 
FUTURE DATES LISTED EACH MONTH.
UPCOMING SESSIONS WILL ALWAYS BE
AFTER THE LAST DATE POSTED.
VERY IMPORTANT! 
Seats will  be filled on a first come, first serve basis with a limited amount of students per slot.
Reminder : As stated before purchase, all participants must be 17 or older.
Courses only open to U.S. Citizens or Non-U.S. citizens who are: (1) lawful permanent residents (e.g., green card holders), (2) refugees, or (3) individuals who have been granted asylum.
Visa holders (Work, Travel,  Ect.) are not eligible for any courses involving firearms.
Cancellation Policies
 No-shows forfeit their voucher.

$25 rescheduling fee for date or time changes.
Vouchers may be transferred to others if unforeseen circumstances arise at no additional charge. No contact is necessary, just tell us at the door.
72 hours notice required to reschedule.

The format of this particular promotion requires us to pay for students before they show, therefore we must adhere to this policy.
Your registration affirms you have read and agreed to these terms.