Long Range Shooting – 07/06/19
9am-6pm
Once a shooter conquers distances of 100 and 200 yards it becomes almost foolish to spend centerfire ammo at these ranges. Even a budget rifle is capable of hitting targets more than half a mile away with quality ammo and optic, as long as the shooter is up to the task.
Just a short ride to Lewistown Pennsylvania (4 hours from Nassau County) and you will find our Long range course where in just one day we will teach you how to hit targets past up to and including your rifles maximum range as we engage steel out to distances in excess of 1,000 yards.

This course is proudly sponsored by Champion Targets as they have provided enough steel for each 100 yard increment!
Long range experience is not required for this course as it is intended for beginners, however experience with your rifle and optic are mandatory.
Mifflin County Sportsman's Association – Lewistown, PA

(OUTDOOR RANGE)
Lewistown, PA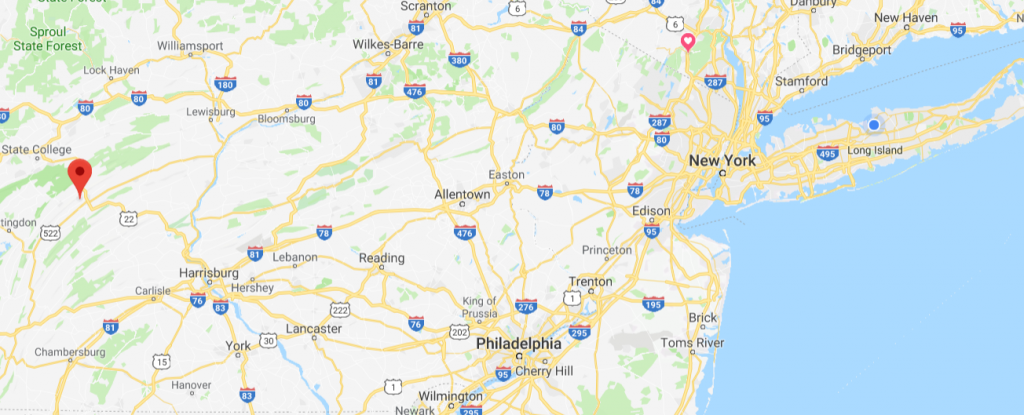 Directions
I-495 W
Keep right at the fork to continue on Exit 31 N, follow signs for Cross Island Pkwy N/Whitestone Br and merge onto Cross Island Pkwy
Use the right 2 lanes to take exit 33 for Interstate 295/Throgs Neck Br toward Bronx/New England
Merge onto I-295 N
Keep left to continue on Cross Bronx Expy, follow signs for Interstate 95 S/G Washington Br/Newark NJ
Continue onto I-95/Interstate 95 Lower Level S
Continue onto I-78 W
Merge onto I-81 S 8.2 mi
Continue straight to stay on I-81 S2.6 mi
Use the right 2 lanes to take exit 67A-67B to merge onto US-22 W/US-322 W toward Lewistown
Continue to follow US-322 W56.6 mi
Take the exit toward Burnham/Yeagertown
Continue on Ferguson Valley Rd. Drive to Ellen Chapel Ln in Granville Township
Turn right onto Ferguson Valley Rd/T401
Turn right onto State Rte 4013/Ferguson Valley Rd
Continue to follow Ferguson Valley Rd
Turn right onto Ellen Chapel Rd
Continue through church parking lot, down dirt road through gate
Follow dirt road, keep left
After passing pond make immediate Left
Continue uphill, rifle range is last range on your right.
GPS: 400 Ellen Chapel Ln, Lewistown, PA 17044
Continue through church parking lot, down dirt road through gate
Follow dirt road, keep left
After passing pond make immediate Left
Continue uphill, rifle range is last range on your right.
In this course we cover:
FIREARMS SAFETY
Advanced Marksmanship Fundamentals
Wind Reading
Bullet Flight Characteristics (drift and trajectory)
Using a Chronograph
Making a D.O.P.E Chart

Understanding Scope Reticles and MOA
Selecting and Troubleshooting Equipment
Using Ballistic Calculations Software
5 hour  – Long Range Fire Session w/ targets past 1000 yards

Challenge Courses of Fire With Prizes from Brownells, Nikon, Tuff Products and Warne Scope Mounts!

All course information can be found HERE.
Instructors:
Courses only open to U.S. Citizens or Non-U.S. citizens who are: (1) lawful permanent residents (e.g., green card holders), (2) refugees, or (3) individuals who have been granted asylum.
Visa holders (Work, Travel,  Ect.) are not eligible for any courses involving firearms.
Price:
$295 – Full payment made upon registration

Payment is non refundable, may be transferred to another class with 14 days notice, inside of that you must attend or have somebody take your spot.
THIS COURSE IS NOT INTENDED FOR FIRST TIME SHOOTERS
FIRST TIME SHOOTERS: We recommend an NRA Basic
prior to this course.



Recommended Skill Level

10 hours of

RECENT

(within 6 months) range time is recommended for this course at a minimum.
Range time can be on your own, under professional instruction or a combination of the two.
Firearms function will NOT be covered.
A student taking this course is expected:

To already have safe firearms handling skills

To understand how to load their firearm

To understand how to unload their firearm

To understand how to zero in under 20 rounds of ammo

To understand the cycling process of their firearm

IF YOU APPEAR UNFAMILIAR WITH FIREARMS AND/OR UNSAFE YOU WILL BE
ASKED TO LEAVE WITHOUT REFUND
Materials Necessary:
Scoped centerfire rifle with high magnification (10x or higher) optic, caliber .223 or higher *.223 must have a bullet weight of 75 grains or heavier.
.50 BMG is not allowed as it destroys targets.
150 rounds of match ammo that can hold a group of at least 1.5″ at 100 yards. 250 rounds recommended – Ammo must all be the same make and loading –  handloads are welcome.
Owners manual for scope
Bipod or rest that is over 9″ tall
Rear bag or sand sock (sock filled with rice about the size of a softball will do)
Lodging the night before. Both the Burnham, PA Super 8 and Burnham, PA Comfort Inn are clean, affordable and less than 10 minutes from the range and Gun Friendly. The Waterside Campground is approx 20 minutes from the range should you wish to camp.
A limited number of loaner rifles are available with advanced notice. Low Cost Match-Grade ammunition will be available and no outside ammo is permitted. A typical student will spend $150- $250 in ammunition for the day. If you are borrowing a rifle we will email you after registration with available options.
options.
Bagged Lunch
Bottled water
Chair
Recommended: Laptop computer (you will receive free ballistics software)
Recommended: Spotting scope or Binoculars 20x or greater
Recommended: Backup Rifle and/or Optic
It's essential that shooters considering this course are already proficient at 100 yards.
Each Student must be checked into their hotel room before 11pm the night before.
Traffic is too unpredictable to leave the day of. 
Open to ages 12+