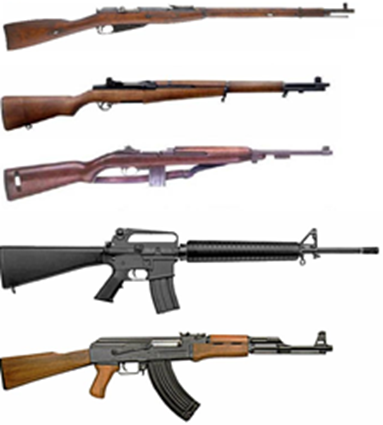 Learn about these amazing weapons
with
Frank Melloni from History Channel's TOP SHOT
The guns featured on this experience have arguably had more of an impact on the world than any politician or individual that's ever lived, and we're giving you the shot to spend the day firing them off with a true historian and gun pro.
Host Frank Melloni featured on The History Channel's Top Shot, takes you through the history and development of the classic military firearms immeditly followed up by a LIVE FIRE test drive of actual historic rifles, many that were used in combat.
Not Replicas, not even reproductions ACTUAL historic military firearms.
If you're up to the task of shooting nearly every major military arm that has been in service throughout the last 100 years, you could walk away with some serious bragging rights and a memory that would last a lifetime!
THIS COURSE CONTAINS LIVE FIRE AND THE HISTORY OF:
The Mosin Nagant
The M1 Garand
The M1 Carbine
The AK-47
The AR-15
Using FULL POWER military ammo!
SPONSORED BY WOLF PERFORMANCE AMMUNITION!

Materials necessary:
N/A , but feel free to bring your own Eye and Ear Protection
Courses only open to U.S. Citizens or Non-U.S. citizens who are: (1) lawful permanent residents (e.g., green card holders), (2) refugees, or (3) individuals who have been granted asylum.
Visa holders (Work, Travel, Ect.) are not eligible for any courses involving firearms.