Will you be traveling outside of your state for business or pleasure? Are you looking to go hunting with your handgun in another state or simply want to exercise your Second Amendment right to protect yourself and/or your family while in another state? If so, this course is for you!
Our non-resident pistol pre-licensing course will cover/provide the requirements, from paperwork, fingerprinting to the photos needed to apply for your carry license in the states of Utah and Florida. After each states approval, you will be able to carry your handgun in up-to 40 states depending on your home state, if you have a resident state license, and how many states you apply to for a non-resident license. States that could accept all of your licenses are listed in green on the map below. See below for a full list of what is included in the course and to signup.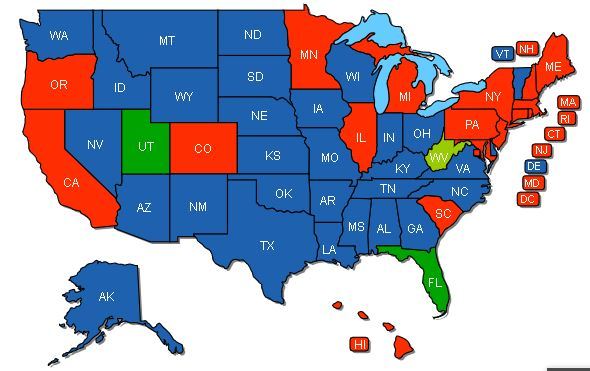 States that MAY accept these licenses:Alabama, Alaska, Arizona, Arkansas, Delaware, Florida, Georgia, Idaho, Indiana, Iowa, Kansas, Kentucky, Louisiana, Maine, Michigan, Mississippi, Missouri, Montana, Nebraska, Nevada, New Hampshire, New Mexico, North Carolina, North Dakota, Ohio, Oklahoma, South Dakota, Tennessee, Texas, Utah, Vermont, Virginia, Washington, West Virginia, Wisconsin, Wyoming
States that MAY not accept these licenses: California, Colorado, Connecticut, Hawaii, Illinois, Maryland, Massachusetts, Minnesota, New Jersey, New York, Oregon, Pennsylvania, Rhode Island, South Carolina, New York City, District of Columbia (You may be able to apply for a permit individually to these states, however each has their own requirements and chances of being denied.)
What's Included:
Application packets from the states of UT and FL to include fingerprint cards
Addressed envelopes for each state (just add postage to each)
The UT course taught by a UT certified instructor
UT application stamped and signed by UT certified instructor
Fingerprints rolled by a law enforcement officer for UT and FL
The taking and printing of two passport size photos for UT and FL
A copy of your government photo ID for UT
A copy of your range time competency (Hunter Ed Card, DD-214, USCCA or NRA Pistol Course, etc) if not see below for a list of courses we offer to obtain that.
Help with questions during and after the course
What's NOT included:
Postage for the envelopes (2+ stamps each)
The $62 fee paid to Utah (then only $15 every five years)
The $97 fee paid to Florida (then only $87 every seven years)
Firearms (range-time) competency for Florida. To fulfill this requirement we offer the Defensive Shooting: I, Defensive Shooting: II or the NRA Basic Pistol Course. Newer shooters or those that don't have any formal training should consider one of these formal courses.
TERMS AND CONDITIONS:
You will not need to take this course again in order to renew your licenses in any of the states that this course covers.
If NY is your resident state, you do not need a Pistol License from NY to attend this course, to apply for, or be issued a pistol license in the States of Utah and Florida. This course does not cover the steps to apply for a license in your home state. Review the Utah Minimum Training Curriculum & Florida Concealed Weapon License Application Instructions prior to arriving at the course.
The successful completion of any RFI handgun training does not guarantee the issuance of a carry license in Utah, Florida or any other state that you apply to. The issuance of a license remains at the discretion of the licensing officer of the county or state that you are applying in.
Reciprocity between states changes frequently. RFI and/or PS&Ed can not be held accountable if states change their laws and drop formal or informal reciprocity with other states. Students are responsible for confirming reciprocity between states before traveling to said states. You can use, USACarry.com, www.USCCA.com/travel, or NRAILA.org to check reciprocity.
Firearms & Ammunition: This is NOT a live-fire course!