After learning the fundamentals needed to accurately fire and zero a rifle the door opens to more challenging and rewarding rifle shooting. In this course students will not only learn how to shoot from field positions (Standing, Sitting, Kneeling and Prone) but work with instructors to practice and perfect their form in several live fire drills.
This 4 hour course is conducted entirely at a private shooting range and consists of group and one on one instruction and ends with a practice highpower match (scorring is confidential). This is the standard national match in which shooters can measure their growth in these field positions.
Shooters are encouraged to bring their own rifles. These can be of ANY caliber as well as ANY optic or iron sight. A semi automatic that uses a detachable magazines is recommended, but almost any rifle will do. Some good examples are the AR-15, Ruger 10/22, M1A, M1 Garand, Mossburg 702 Plinkster, Remington 597, Marlin 795. Tube fed and lever actions are allowed but are much harder to fire and reload for timed fire stages. If possible please have a sling installed on your firearm, preferably a USGI web sling, attached to a pair of 1.25″ sling swivels.
See Picture Below: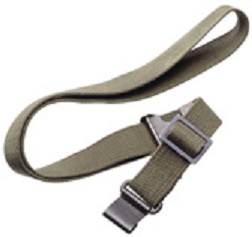 THIS IS NOT A SINGLE POINT SLING!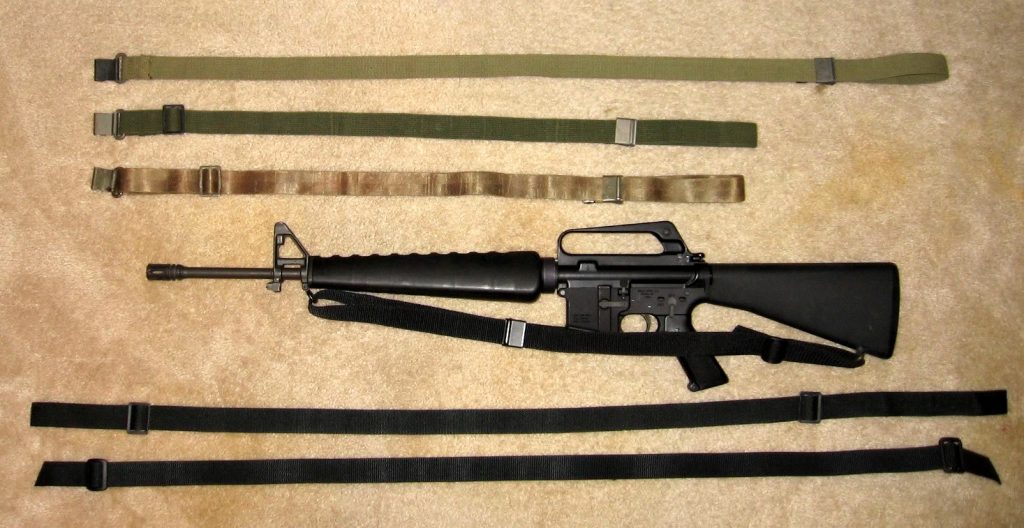 The most confusion arises when we say to bring a rifle with a USGI Web sling. A USGI web sling is a sling that has a loop on the back to be placed around your support arm to help steady the rifle when shooting. We will be covering how to use this technique extensively. You will notice that it is different from a traditional hunting sling and it is NOT a single point sling.
Here is a link that you can order one from:
http://www.midwayusa.com/product/966254/cj-weapons-m1-garand-web-sling-cotton-olive-drab
The USGI web sling is 1 – 1/4″ wide so it requires the proper swivels to slide through on your gun. There can be purchased here:
http://www.midwayusa.com/product/1398331116/uncle-mikes-quick-detachable-super-sling-swivel-set
Be sure to order the 1 – 1/4″ versions.
Lastly a sling swivel attaches to a sling stud. These can be purchased and installed easily on your rifle yourself or by any gunsmith:
http://www.midwayusa.com/product/366960/uncle-mikes-sling-swivel-stud-115-b-set
If you have a very common rifle (AR15, 10/22) then look into special adapters like these, they will save you time and make for a neat install:
http://www.midwayusa.com/product/666252/midwest-industries-rail-mount-sling-adapter-with-standard-sling-swivel-stud-ar-15-aluminum-matte
200 rounds of ammo will be required for the shoot.
If you do not own a rifle that fits the above description, one will be lent to you, with ammo, for no extra charge.
In this course we cover:
Firearm safety at organized matches and afield
Shooting with a sling
Shooting without a sling
Shooting standing
Shooting Sitting
Shooting Prone (lying)
The rules and format of highpower shooting
A practice highpower shoot
Requirements
Students MUST be familiar with basic firearms function.
Students Must be able to zero within 15 rounds of ammo.
Students Must be able to reload from a closed bolt, from an open bolt and reload from both a loaded and empty chamber.
Students Must be able to rapidly clear Jams, as several drills are only 60 seconds long.
Prospective attendees that are not able to complete these procedures rapidly should NOT start with this course and should consider a private lesson OR the NRA Basic Rifle Course first.

Basic Function will not be covered either as a whole or one on one during this course.
If bringing a rifle (recomended) it must be zeroed to impact 1.5″ high at 50 yards with the ammo you will be bringing. This will NOT be the same zero at any other distance.

200+ rounds of ammo if you are bringing your own rifle (encouraged).
Pen and pad
Courses only open to U.S. Citizens or Non-U.S. citizens who are: (1) lawful permanent residents (e.g., green card holders), (2) refugees, or (3) individuals who have been granted asylum.
Visa holders (Work, Travel,  Ect.) are not eligible for any courses involving firearms.
Also great to bring
Extra magazine, or magazine that hold 10 rounds (Timed portions require 10 shots)
Shooting mat, Large towel, or blanket
Pop-up Canopy (for shade and protection from the elements)
Utility stapler (To speed up target hanging)
Spotting Scope
Shooting coat – Our recommendation