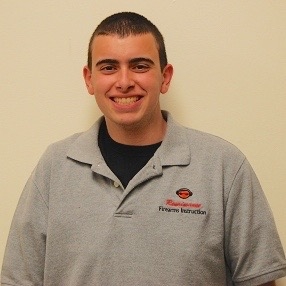 Finding opposition at first to pursue the shooting sports, Sam now has his entire family elbow to elbow on the range.
Having that unexplainable urge that so many of us are born with, Sam wanted to learn to shoot from as young as he can remember. All things were in place to do so…..except for a family that wasn't in complete agreement about firearms ownership and use.
Offering up facts and statistics of firearms and how safe the sport is, especially when compared to other sports and activities, his parents reluctantly brought him to train with Renaissance. This skill of informative persuasion would later be applied to several award winning videos and papers, helping spread awareness of what gun ownership is (and isn't) to the community.
Excelling at a rapid pace, Sam quickly learned proper rifle shooting positions and let his interest overflow into the areas of shotgun and handgun shooting as well. This is where he was grabbed by the sport of USPSA and quickly became an avid Junior competitor. Sam has also earned the rank of Distinguished Expert in the Defensive Pistol Qualification in the Winchester Marksmanship Program.
After a year of training, the unthinkable occurred and his parents bought him his first firearm. However the real change came when his family not only accepted this new found activity, but bought firearms of their own and started enjoying the shooting of sporting clays and recreational plinking as a family.
Today, Sam is pursuing a career in law enforcment where he will put his firearms skills and knowledge towards the worthwile cause of serving and protecting the residents of North Carolina.